Welcome to all who have found their way over from Uni Watch. I've been reading it regularly for several months and have become a fan, and even a contributor on occasion.
In the January 18 post, reader Andrew Bartsch noted that the Metrodome end zones had "a separate, distinct end line". I took a long look at the photos that were linked and studied the tapes of Vikings games on NFL Videos and determined that they were actually the same end zone. It's the one on the right when watching on television. The picture of Tony Romo is simply from the reverse angle.
But that doesn't answer the question: Why is there a green stripe in the end line at the Metrodome?
As we see above, the green stripe is clearly visible. I decided to go straight to the source and emailed Al Kuehner the Supervisor of Field and Grounds for the Metrodome. His answer is actually fairly straightforward:
We have a 15' wide rubber warning track for baseball which surrounds the stadium. The back of the end zone is 6" from the track.
Regulation lines on a field are four inches wide. That leaves a two inch strip of green turf.
Why don't they paint that? I don't know, I didn't ask. I felt grateful to him for just responding, after all, this is just some blog, not ESPN.
This issue got me digging into my Metrodome stuff and wanted to bring up some other things as well.
The Metrodome had the Twins and Vikings time-sharing the facility and it leads to some interesting things:
The six foot end line isn't painted in at all during baseball season.

The Twins had a concentric ring pattern in the turf emanating from the pitchers mound. It's still there even in the playoffs.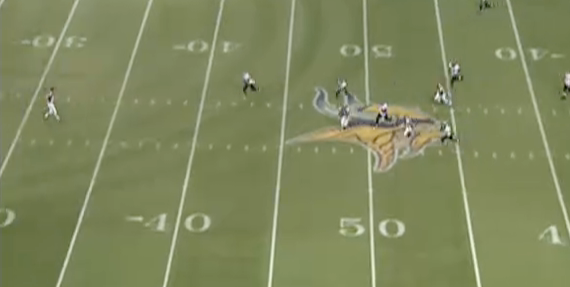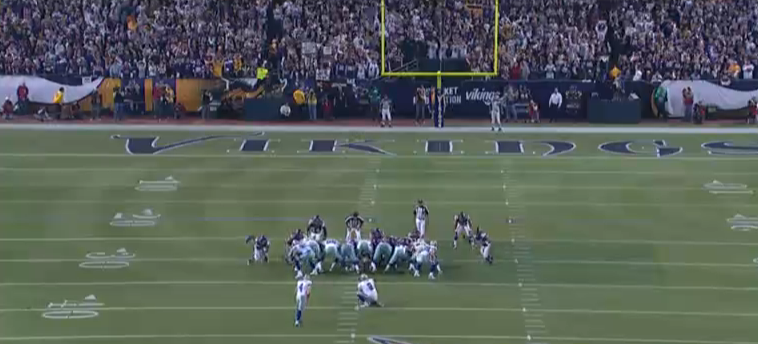 It's pretty easy to tell where first base was.

I'm not sure if this Vike was catching a pass at the 30 or sliding into third base.