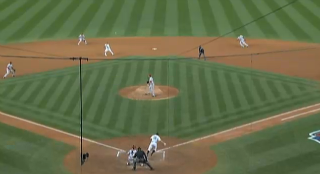 The World Series starts tomorrow!! Pictured here is the infield of Yankee Stadium during the ALCS against the Angels.
Wouldn't you like to have that great Yankee Stadium grass on your lawn? Sure! We all would!
A tuft for the windowsill? A pallet for the backyard? Officially licensed grass is about to be sold, in the form of sod or seeds, to fans who want a patch to call their own.
Yankees sod is now available!!
Before we go...would you like a sneak peek of the World Series logo painted on the grass?