Just a quick one today.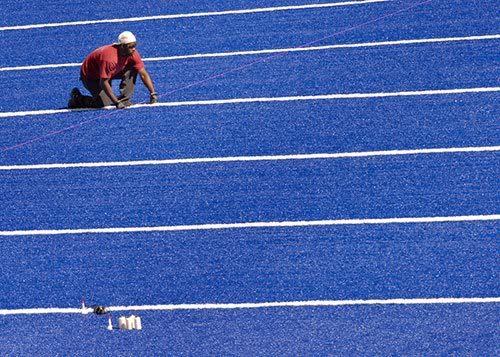 Boise State is famous for having blue turf. But, sometimes the fibers can have something of a sheen or glare that irritates the fans and doesn't look so good on television. The fine folks at FieldTurf were aware of the situation, and will work this summer to get the situation resolved. Money Quote:


Athletic director Gene Bleymaier says light-reflecting fibers in the current artificial field cause problems for people watching the game in person or on television.

Bleymaier says FieldTurf wants to fix the problem and is doing it for free. The school did not estimate the cost of the project.

Big thanks to

Tim Snyder

for the tip on this one! He's got a blog of his own: Red Rider Sports Blog, check it out. We bloggers are always putting each other over, that's how we roll.

Who knew somebody was actually reading this?!?!?

Until next time.