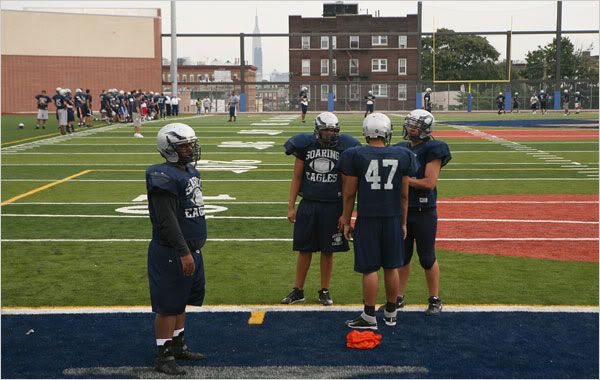 It's not all pro sports around this blog. I do find some nifty items concerning college and even high school sports to pass along.
First,
here's the link
to a nice New York Times piece about Union City High School having virtually no place to build their new stadium (two schools, Emerson and Union Hill were combined to form Union City High) so they built it on top of the school! Check out the picture above, you can see the Empire State Building across the Hudson River.
The kids love it. Money quote:
"It was like walking through the gates of Disneyland: Jaws dropped and eyes were all over the place," said Joe Rotondi, the head football coach, adding that so many players were looking around during the first practice in July that he had to stop and give them 10 minutes to walk around.
Friendswood High School, southeast of Houston, is having problems with their FieldTurf. In the summer of 2006 the surface was installed and since then has requred 300 repairs! Money quote:
The district claims the company hired unqualified day laborers off the street to lay the artificial turf and that crews did the installation in a rush. Workers still were putting down turf an hour before the 2006 season's opening football game, district officials have said.
School district officials are considering litigation. FieldTurf Tarkett needs to make this right. If there is one group of people you don't want upset with you, it's football fans in Texas!
Last but not least, this year is the 80th anniversary of one of the great traditions of Southern football: hedges! (Link) If it's fall in the south, then there is some action going on "between the hedges," and it was eighty years ago this fall the first hedges were planted at Georgia's Sanford Stadium. The hedges were inspired by rose bushes that used to surround the field at the Rose Bowl. Apparently rose bushes wouldn't fare well in Georgia, so they used hedges, planting them during the night just before the first Bulldog game at Sanford Stadium.
If any of you are thinking of making a trip to Athens to covertly obtain a sample, think twice: The hedges are protected by a security camera system and the hedges have a chain-link fence hidden inside. Like the Boss said: "You can look, but you better not touch."
Until next time!