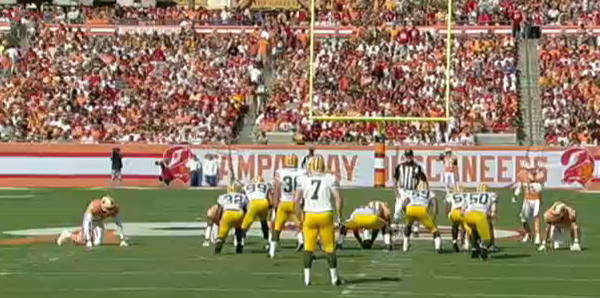 Shame on me!!
I was doing research for another item about time sharing when I found some clips of the November 8 Bucs/Packers game.
The game was notable because the Bucs wore their throwback '
creamsicle
' orange jerseys. The guys at NFL Network had a lot of fun with Lee Roy Selmon and James Wilder jokes, but I was stunned when I saw what the grounds crew had done on the field.
It was 1976-1995 at the
Sombrero
all over again!
The grounds crew did a
fantastic
job recreating the look of Tampa Stadium from back in the day.
The

Pièce de résistance

was the

midfield

!!! Only the Colts have their helmet at midfield. The Bucs helmet was twice as big as the Colts. It was HUGE!! It spans 16 yards, while the Colts covers 8. Maybe my memory is corroded but it seemed that everybody had their helmet at midfield in years past. Oh well.
Until next time!!